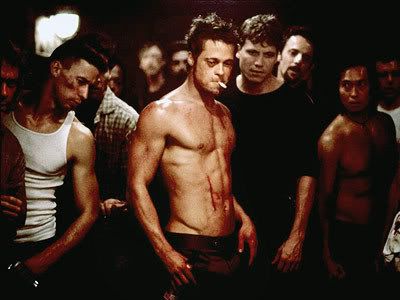 Sorry I haven't updated in a while. I fell asleep on the couch yesterday and walked up to my room at four in the morning, but on the brightside, I went to bed at 10 which is early for me.
Yesterday I started my physical therapy for my back problems. They did this thing called electrical stimulation. I just want to let you know, it feels amazing. At first it sounded really freaky. Like, I thought I was gonna get shocked, but it just tingles and feels amazing. I get that twice a week, so that makes me very happy.
I got to run my solo last night, and Pedro loved it. I'm so glad that he likes it. It's so tiring! I'm so glad that I have a lot of room to run because my whole solo is like that. You guys better come to the show!! You definitely don't want to miss my solo!
I finished
Fight Club
today, and I thought it was amazing. Absolutely fantastic. I adore Chuck P.'s writing style. He's truly an amazing author. I was a bit confused about the ending of the book though. I read it over a few times, and I was informed that Jack was actually in the hospital, not dead in heaven. That cleared a few things up for me. When I first read the ending, I thought he killed himself, and I got really mad. But now knowing that he's just in the hospital, that makes me feel better. Haha. I want to watch the movie really bad now because I heard that it's quite faithful to the book and quite rad. I'm looking forward to scenes like this with Brad Pitt with his shirt off. Yummy. I'm starting
Survivor
tomorrow. I have a whole list of books to read now. Good thing I finally got a library card.
Must Read List
-
Invisible Monsters -Fight Club
-Survivor
-Choke
-Snuff
-Rant
-Diary
-Lullaby
-Catcher in the Rye
-Nick and Norah's Infinite Playlist
-Bluebeard
-Brave New World
There are probably a few more, but those are definitely on the top. Thanks for all who recommended the books. The first eight are all Chuck P. books. What more can I say? He's just stellar.
reinvent love,
bria
P.S. I always try to decipher what you're really trying to say to me. And I hope I'm not taking this the wrong way, but I'm getting really excited. Should I be? I think so...(: